What is a conjunction? A conjunction is a part of speech that is used to join words, phrases, clauses and sentences. To put it another way, conjunctions join words and groups of words to show how ideas are related.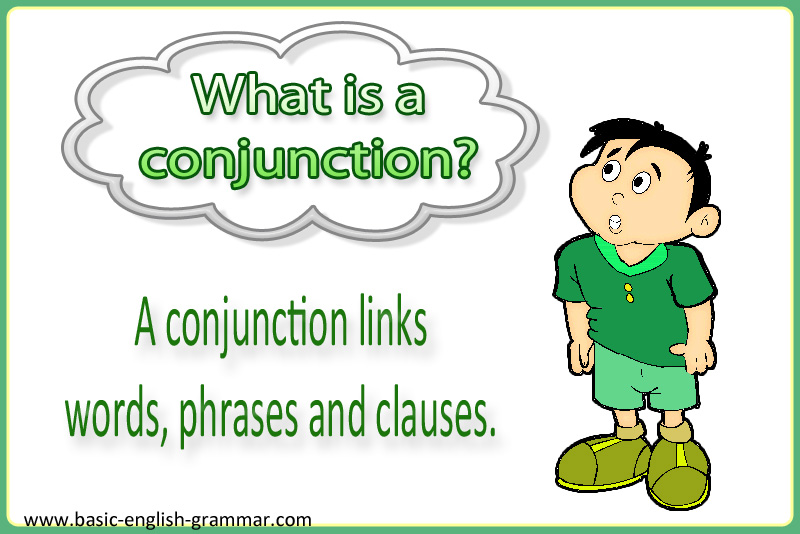 Types of Conjunctions
There are three general classes of conjunctions: coordinating, subordinating and correlative. However, relative adverbs used as conjunctions are also called conjunctive adverbs or adverbial conjunctions.
1. Coordinating Conjunctions
Coordinating conjunctions connect sentence elements with the same grammatical value: words with words; phrases with phrases; clauses with clauses; and sentences with sentences.
The most common coordinating conjunctions are: and, but, for, or, nor, yet and so.
Here are some examples of Coordinating Conjunctions!
David and Jenny will join their families for Christmas. (Words with Words)
David likes reading books and writing stories. (phrases with phrases)
There is the man who saved his son from drowning but who lose his wife in the process. (clauses with clauses)
David's friends said that he could not get the new position at work. Yet he was offered the job. (Sentences with Sentences)
2. Subordinating Conjunctions
Subordinating conjunctions are used to connect two clauses of unequal value. They connect dependent clauses with independent clauses.
The most common subordinating conjunctions are: after, although, as, as if, as though, because, before, how, if, since, so that, than, though, till, until, unless, when, where, whether, and while.
Here are some examples of Subordinating Conjunctions!
Rachel had to finish work before she could go shopping.
If the rain stops, Bradley will play cricket this afternoon.
Dad cannot drive the car to work this morning because the tyres are flat.
Since the horrific accident, Rebekah has been too frightened to drive to work.
3. Correlative Conjunctions
Correlative Conjunctions are used in pairs to indicate a comparative or contrasting relationship of words or ideas in a sentence.
The most common correlative conjunctions are: either-or, neither-nor, both-and, not only-but also, and whether-or.
Here are some examples of Correlative Conjunctions!
Rachel is both wise and intelligent.
I am giving you not only a warning but also a yellow card.
The teacher had neither the time nor the patience to listen to the student's request.
Jenny and Rebekah couldn't decide whether to stay home or to go the beach.
4. Conjunctive Adverbs
Conjunctive adverbs are much like the coordinating conjunction when it comes to their function. Coordinating conjunctions connect independent clauses and so do conjunctive adverbs.
Conjunctive adverbs are preceded by a semicolon and are usually followed by a comma.
The most common conjunctive adverbs are: accordingly, also, besides, consequently, finally, however, indeed, instead, likewise, meanwhile, nevertheless, next, otherwise, still, therefore, and then.
Here are some examples of Conjunctive Adverbs!
The heavy rain flooded the creek; therefore, we were not able to return home.
There were many good football players at the carnival; however, none of them made it to the finals.
The football team has a set of rules to maintain order and discipline; otherwise, the team would struggle to reach its potential.
The tennis player didn't take the winnings; instead, he gave it to a charity.
Resources For What is a Conjunction?
English Grammar in Use by Raymond Murphy
Plain English Handbook by J. Martyn Walsh and Anna Kathleen Walsh
The Only Grammar Book by Susan Thurman
Mastering English Grammar by S.H. Burton